Commercial design's visual basis is all but assumed. But the sound sculptures of Harry Bertoia are a notable exception.
Bertoia was a mid-century modernist, a contemporary and colleague of Ray and Charles Eames and Eero Saarinen, among others. In the early years of his career he created functional, formally-experimental furniture, perhaps most famously the diamond chair, before turning to sound sculptures in the late-1950s.
Last week, Dr. J. Martin Daughtry, Yoni Niv, and I visited Lost City Arts, a design store in the Bowery that has a number of Bertoia's pieces right out on the floor, available to be played.
BT: There are essentially two types of sound sculptures. The first ranges from about a foot to several feet in height, and is composed of a dense cluster of thin, stainless steel rods welded to a base. This one is typical: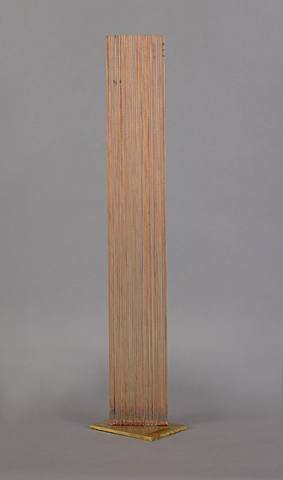 You play the sculpture with your hand by rubbing the top. It sounds like this:
The initial noise is somewhat jarring, a grim wind chime, but it resolves into a lovely resonance that lasts for a minute or more, depending on the size of the piece. Its jittery vibrations seem to go on and on.
The second type is Richard Serra-large, two big bronze disks propped up on snorkel-shaped hooks above a single rectangular base.
This sculpture is played with a mallet, and produces a deep and very long-lasting resonance. It sounds like this:
After Martin hit one just a few times, we waited several minutes before the sound finally died away. The enormous slab of bronze shook around 20 or 30 Hz, and no amount of contact from us could dampen it. Martin hits the bronze lightly for the last time around 2:15. At around 2:50, you can hear the microphone moving closer to the sculpture, for another minute or so picking up swelling waves of a still-powerful resonance at close proximity.
JMD: When I first visited the store, never having heard of Bertoia, I didn't understand that the rod-based sculptures were anything other than static pieces, i.e., pieces to be looked at. As such, they struck me as attractively austere, modernist works of art–art conceived as part of a bleak industrial project. Some of the sculptures have the rods arrayed in a straight line; others, in a strict rectangular cylinder that bears an uncanny resemblance to the World Trade Center. As "visual sculptures," they made sense, although I wouldn't call them exactly blog-worthy. But when the owner gently stroked the top of the sculpture and it began its slow, jello-like dance, the transformation was remarkable: it stopped looking like the World Trade Center and started looking like something organic, something agricultural–a stand of wheat, a handful of sea oats waving in the breeze. The ringing sound this motion produced, while beautiful, doesn't map on to any of these images (WTC or wheat) easily. And that creates a weird sensation of disbelief, a failure to understand how the motion I'm watching can produce the sounds I'm hearing. (I found myself thinking, "the rods must be hollow! There must be hidden resonators!") Watch/listen to this video to see/hear what I mean:
One final word: if you visit the store, be sure to ask the owner (who is extremely knowledgeable and friendly, btw) for permission to touch the Bertoias. The smallest piece I saw, a desktop model, costs $38,000, and I'm sure the principle of "you broke it, you bought it" applies here.
Download a collaboration between Matthew Shipp, Loren MazzaCane Connors, and Bertoia's son, Val that uses Bertoia's sculptures as lock grooves