Posts published during February, 2010
Journalist/critic Virginia Heffernan wrote a thoughtful summary essay in last weekend's New York Times Magazine about the 2010 Academy Award nominees for best sound-design.
This weekend, 644 competitors vied to become the 2010 crossword-solving champion. (I came in 338th, way ahead of Ken Burns.) As solvers finished each puzzle, they filed out to the lobby to discuss triumph and tragedy.
Gossip: I have an artwork premiering at next month's Ncounters conference at the University of Alberta.
The piece is titled "This is Sound," and it is an 11-minute lecture/journey about the effects of sound on the human body. It was produced, loosely, in the style of NOVA.
เดือนหน้าผมจะไปกรุงเทพฯเพื่อศึกษาวิจัยเกี่ยวกับเพลงและเสียง

แอโรบิคทางใต้สะพานลอย
สนใจในวิธีการที่เพลงและสถาปัตยกรรมที่พัฒนาร่วมกัน ยังสนใจว่าเสียงมีผลต่อผู้คนในเมือง
ถ้าคุณพูดภาษาไทยหรือถ้าคุณอาศัยอยู่ในกรุงเทพฯและสนใจในเสียงโปรดส่งผมอีเมล(datageneral@gmail.com)นะครับ เวลาผมอยู่ในกรุงเทพฯผมต้องการจะพบเพื่อนใหม่และเพื่อนร่วมงาน
เช่น
-คุณมีปัญหากับเสียงในกรุงเทพฯไหม?
-คุณมีนักดนตรีหรือไม่?
-คุณอาศัยอยู่ในเมืองนานและคุณอย่าลืมว่ามันใช้เสียง?
-คุณสนใจว่าเสียงถนนมีผลต่อชีวิตประจำวัน?
ขอบคุณครับ
We hear many voices when we're in public. But the logic between which ones we engage, ignore, or get frustrated by isn't always apparent, even to ourselves.
One of the most perplexing examples is the cell phone conversation. To wit: if we're sitting in front of two people on a bus, and they're talking in a reasonable tone of voice, it's very unlikely we'll care at all. But if it's only one person, and he's talking at the same hypothetical volume on the phone, we might think bad thoughts about him, or have trouble concentrating. Why are we bothered by the latter and not the former?
We develop and adjust auditory filters throughout our lives. Our annoyance with overhearing cell phone chatter suggests that we've become accustomed to telephone conversations – however innocuous – being private. And so the sound of them in public space registers as a breach of etiquette, even if it's no different in pitch, volume, or timbre than an old-fashioned, in-person conversation. This may change over time, perhaps after we've spent years and years confronted with the practice. For now, the memory of landline custom still obtains.
The following recording is a good example of this phenomenon, starring one of those much-despised Motorola walkie-talkies. As the F train went above ground during a snowstorm that had severely delayed train traffic, a man got a page (presaged by the famous tone) from a friend, and commenced telling him where he was, how long he expected to be there, and so on. There was a whole lot of eye-rolling on the busy car. The tones kept coming, and the voice of the man on the other end came through covered by a harsh, almost mean-sounding distortion. This mixed with the sound of train announcements which, as you might expect, were filtered into the normal bin.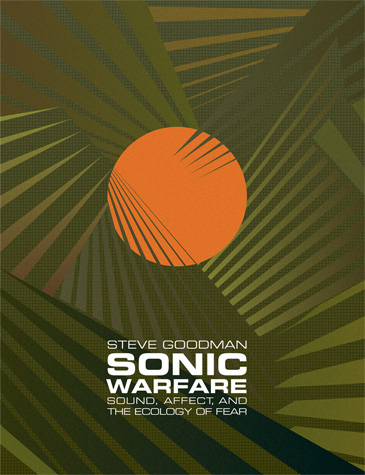 One Square Inch of Silence: One Man's Search for Natural Silence in a Noisy World
by Gordon Hempton
Free Press, 2009
368 pps., $26 ($4.20 used on Abebooks.com)
Sonic Warfare: Sound, Affect, and the Ecology of Fear
by Steve Goodman
The MIT Press, 2009
240 pps., $35 ($25.20 on Amazon)
"As for cost-benefit analysis," Gordon Hempton begins a climactic soliloquy to an audience of frowning Federal Aviation Administration agents, "we have three million visitors to Olympic Park each year. We've had two timber mills close. I have seen the poverty in the town of Port Angeles. I live there at the park. To be designated the world's first quiet place and to develop quiet tourism in that area – let me tell you, I do a lot of traveling and it is so noisy. There is a tourist need for this quiet place. It would be a tremendous benefit." [1]
This week, Weird Vibrations will review two new books together: Gordon Hempton's 2009 "One Square Inch of Silence" and Steve Goodman's 2010 "Sonic Warfare." The books offer contrasting viewpoints on acoustic ecology – the first is a naturalist's travelogue, the second a philosophical critique of military-industrial soundscapes. Both call for increased attention to our planet's sonic environment, but they take radically different stands on where to go from there.
Before publishing the review, I want to poll you on a couple of questions. First, is understanding sound as an ecosystem practical? In other words, can this formulation help us deal with noise in a just fashion? How does the ecological metaphor sit with you?
Second, does acoustic ecology's focus on "natural" preservation make it essentially conservative? This is a charge that's latent (if not explicit) in some recent Sound Studies work that foregrounds technology. What do you think?
Looking forward to hearing your thoughts. (I have ESP, but type them out for others' sake, please.)